Landcruiser 80 Series Bull Bars
Landcruiser 80 Series Bullbars
If you are getting ready to take your Toyota LandCruiser out into the great Australian outback, don't leave before fitting an 80 series bullbar from Canyon Off-road.
Canyon Off-Road's 80 Series Bullbars
When you are travelling long distances and exploring challenging 4x4 trails, it is important to make sure your Toyota is fully equipped with high quality safety features. An 80 series bullbar will give you the frontal protection your LandCruiser needs to keep you safe if you encounter unforeseen obstacles or dangerous situations.
An 80 series bullbar from Canyon Off-road is built tough to guard your Toyota against serious damage caused by collisions with animals, trees and branches, or rocks and boulders. An aftermarket bullbar will protect your radiator and cooling system when you are navigating treacherous terrain because it has been designed to absorb the majority of the impact.
Not only will an 80 series bullbar enhance the safety of your LandCruiser, it also looks impressive attached to your chassis and will give you more ground clearance and better approach and departure angles.

High Quality Toyota LandCruiser 80 Series Bullbar
Canyon Off-road stocks a range of bullbars, including an 80 series bullbar to fit your Toyota LandCruiser. We have Xrox bullbars that have been custom-engineered by Outback Accessories, a reliable manufacturer of bullbars and other 4x4 performance parts.
At Canyon Off-road, we understand our customers are avid off-roaders who are looking for aftermarket products that will protect their vehicles against damage when they are journeying into the great outdoors. That's why we have an 80 series bullbar that has been built with durability and longevity in mind. Our bullbars are made using a two inch steel tube and a black powder coat finish. They are also ADR compliant and airbag compatible.
80 Series Bullbar & 4x4 Performance Solutions
LandCruiser drivers will find a selection of 4x4 performance products at Canyon Off-road designed to meet their off-roading requirements. Not only do we have a heavy duty 80 series bullbar range, we stock plenty of other aftermarket parts with performance and driveability in mind.
If you want to learn more about upgrading your Toyota with an 80 series bullbar, then contact the team at Canyon Off-road today.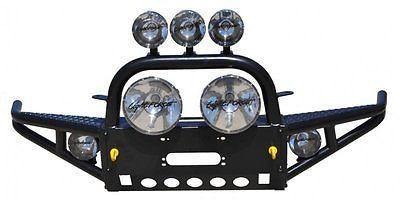 Subscribe
Get our latest news and product promotion