Holden Colorado Bullbars
Before your next adventure across the rugged Australian outback, make sure you equip your vehicle with a heavy duty Holden Colorado bullbar from Canyon Off-road.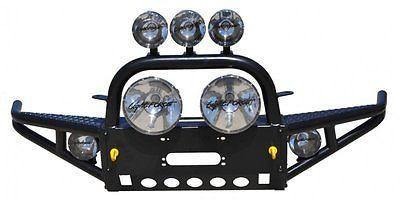 Canyon Off-Road's Holden Colorado Bullbars
When you are travelling long distances in remote locations and navigating difficult terrain, it is important to consider adding safety features to your Holden. Installing a Holden Colorado bullbar will ensure you and your vehicle are protected from potential damage and accidents.
At Canyon Off-road, we have a high quality Holden Colorado bullbar designed to guard your vehicle against animal strikes, trees and branches, boulders and rocks and other dangers. The next time you are off-roading and want to explore different 4x4 trails, you can feel confident in the knowledge that your Holden Colorado bullbar is up to the challenge.
Not only is a Holden Colorado bullbar essential for safety reasons, it will also improve the appearance of your vehicle. A Holden Colorado bullbar from Canyon Off-road is also fitted with side wings, giving you better ground clearance and greater approach and departure angles.

Better Protection with a Holden Colorado Bullbar
Canyon Off-road has custom-engineered a range of bullbars, including a Holden Colorado bullbar for your vehicle. We stock Xrox bullbars that have been manufactured by Outback Accessories, a trusted name in bullbars and other 4x4 performance parts in Australia.
We understand our customers are seeking quality performance solutions, which is why you will be able to drive away on your next off-roading adventure with a Holden Colorado bullbar that will allow you to enjoy the wonder of the great outdoors.
A Holden Colorado bullbar from Canyon Off-road is made to last, constructed using a two inch steel tube with a black powder coat finish. It has been built with convenience in mind and includes hi lift jacking points and mounting points for flags, spotlights and aerials. Our bullbars are airbag compatible and ADR compliant.
Holden Colorado Bullbar & 4x4 Performance Parts
The team at Canyon Off-road specialises in a selection of 4x4 products designed to satisfy avid off-roaders, including a Holden Colorado bullbar range and other aftermarket parts that will improve performance and maximise driveability.
For more information about installing a Holden Colorado bullbar, contact us today.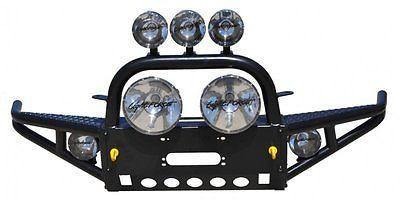 Subscribe
Get our latest news and product promotion