4x4 Bullbars Australia
Before you set off on your next adventure across the Australian outback, make sure you choose one of Canyon Off-road's high quality 4x4 bullbars and have it correctly fitted to your vehicle.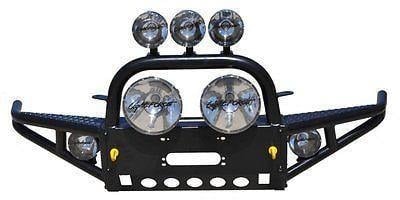 Quality 4x4 Bullbars Australia
Safety is paramount when you are making long distance trips and navigating 4x4 trails, so you need to ensure your 4WD is equipped with a bullbar that gives you and your vehicle added protection.
Our range of 4x4 bullbars are constructed with heavy duty materials to guard your 4WD against potential damage caused by animal collisions and contact with trees, branches and rocks.
An aftermarket bullbar will also protect your cooling system and radiator when you are off-roading in particularly treacherous areas, because they have been designed to absorb the bulk of the impact.
Not only do 4x4 bullbars enhance the safety of your vehicle, they also look impressive on your chassis. They offer better ground clearance and improved approach and departure angles.
A 4x4 bullbar is an essential item for touring and camping because they are also equipped with jacking points and recovery points, making it easy for you to mount a tow hook, winch, sand flag, UHF antenna or light.
Our Selection of 4x4 Bullbars
At Canyon Off-road we stock 4x4 bullbars that have been made in Australia by Outback Accessories, a respected manufacturer of 4x4 bullbars and performance parts. We have bullbars to suit many different makes and models of vehicles including:
Our 4x4 bullbars have been built to last, made with a two inch steel tube and finished with a black powder coat. They are simple to install and have a lightweight 'winged' design, while maintaining strength and stability.
4x4 Bullbars & Other Performance Solutions
Avid off-roaders and performance enthusiasts will find a range of quality aftermarket products at Canyon Off-road, including 4x4 bullbars designed to protect your vehicle against damage. Not only do we have a bullbar that will meet your off-roading requirements, we also sell a variety of 4x4 performance parts including oil catch cans, lift kits and more. Contact us today about our range of 4x4 products.
Subscribe
Get our latest news and product promotion